SEO Services for Car Dealerships
Interested in making more car sales?
Get to the Top of Google with US!
Request Free SEO Analysis
SEO Services for Car Dealership Websites
As a dealership owner or marketer, you know that ranking high on Google is crucial for driving traffic and sales. However, with so many SEO agencies out there, it can be overwhelming to choose the right one. That's why we're here to help you make an informed decision and outrank your competition.
At Matador, we specialize in optimizing car dealership websites for search engines. We understand the unique challenges and opportunities that come with marketing cars online.
We provide a comprehensive range of car dealer SEO management services that include competitive analysis, technical SEO audits and fixes, optimization of web content, creation of new web content, local search optimization, and backlink building. Our strategic approach focuses on content creation, optimization, and backlinks.
We create high-quality content that incorporates all the necessary information about your brand and website. Our optimization process involves optimizing all the elements of your website, from the addition of keywords and keyword phrases to web copies for your car dealership business. Backlinks are essential aspects of SEO, and our strategy incorporates high-quality backlinks that enhance brand credibility, trust, and credibility for your website.
We follow six primary steps for increased organic traffic to your website, higher ranking on SERPs, increased qualified leads, and sales. These steps include finding and analyzing competitors, conducting a technical SEO audit, zeroing down on the best keywords, optimizing GMB listing, optimizing content, and manual blogger outreach for authority link building.
Improving user experience, on-page optimization, website content, and local SEO optimization are all crucial elements that we consider when implementing car dealer SEO. Our services offer comprehensive support, including end-to-end SEO management services, to ensure that your business ranks high on SERPs and increases organic traffic and leads.
If you're looking to implement an SEO strategy that works long-term without breaking the bank or don't have the time to learn and implement the industry's best practices, then our SEO services are what you need. We offer continuous support and guidance to ensure that your business remains successful.
Competitor Analysis
Competitor research is a crucial aspect of any successful SEO strategy. By analyzing your competitors' websites, you can identify areas where you can improve your dealership's online presence and gain a competitive advantage.
We pay close attention to your competitors' website content and structure. Our team analyzes the types of content they are creating and identify areas where you can create more valuable and informative content for potential customers. Additionally, we analyze their website's structure, including their meta tags, header tags, and URL structure, and identify areas where you can improve your website's optimization.
By conducting thorough competitor research, you can identify opportunities to improve your dealership's online presence and gain a competitive advantage in the industry. Remember, SEO is an ongoing process, and competitor research should be an ongoing part of your strategy to stay ahead of the competition.
The purpose of competitors analysis is to build the SEO strategy containing information about the humber of links you should get, their quality and timing, also what content needs to be improved or written.
Deep Technical SEO Audit
Technical SEO involves optimizing your website's structure and code for web crawlers. This includes optimizing your website's speed, mobile-friendliness, and URL structure.
In order to ensure optimal performance and ranking on search engines, it's essential to conduct a technical SEO audit of your auto dealer website. This audit involves a comprehensive analysis of the technical elements that impact your website's functionality and user experience, and it plays a critical role in improving your overall SEO strategy.
At Matador, we focus on analyzing key technical aspects that influence Google's ranking factors, such as website speed, indexing, sitemaps, redirects, broken links, internal links, crawl errors, HTTPS, and AMP, among others. By identifying and addressing these issues, we can help improve your website's functionality, user experience, and overall SEO performance.
One of our primary focuses during the technical SEO audit is to ensure that your website has fast page and site speed, which can have a significant impact on your website's performance and ranking. By working closely with you, we can identify and resolve any technical issues that may be impacting your website's speed, ensuring that your website is optimized for peak performance.
So in the end you will get a list of "bugs" and technical issues that need to be fixed as they restrain your website from ranking higher. On top of that, we provide a list of features and suggestions that may boost rankings once implemented. This may be done either by your programmers, or by our dedicated team of coders.
Optimizing Your Existing Content for Improved SEO Results
If you already have blog posts and other content on your website, you may be missing out on valuable SEO opportunities. By optimizing your existing content, you can enhance its visibility and appeal to search engines, thereby boosting your rankings on Google and other search engines.
With our expert SEO services, we can analyze your existing content and identify areas for improvement. This may include identifying relevant keywords, improving meta tags and descriptions, optimizing headlines and subheadings, and ensuring that your content is properly structured for maximum readability and relevance.
We will feed you the detailed plan for improving the current content. And we even may implement these edits for you to save your time and money.
Keyword Research
Keyword research is the foundation of any successful SEO strategy. As a car dealership owner, you need to understand the search terms that potential customers use when looking for a car. Some examples of popular search terms include "new cars for sale," "used cars near me," "best car deals," and "car financing options."
To find the most effective keywords for your dealership, we use highly effective tools and tactics providing you with data on the search volume and competition for each keyword. Once you have identified your target keywords, you can begin writing content.
So, you will get a well-structured content plan with the list of automotive topics to write about which may attract more visitors to your website.
Content Creation for Auto Dealers
Our content marketing department specializes in crafting high-quality content that will help your dealership rank higher. After completing the keyword research, we recommend our clients create engaging and informative blog posts, product descriptions, and landing pages, that can drive more traffic to your site and convert visitors into loyal customers.
We understand the unique challenges that car dealerships face when it comes to content marketing, and we have the knowledge and experience to help you overcome them.
Partnering with us for your SEO content marketing needs means you can focus on what you do best - running your dealership - while we take care of the content. With our proven track record of success and dedication to customer satisfaction, you can trust us to deliver results that will help your business thrive.
No need to hire writers. We may do the writing for you and put up the new content on your website. Prices do not bite while quality is solid!
Link Building
Link building involves getting other websites to link back to your dealership's website. This helps increase your website's authority and relevance in the eyes of search engines. However, not all links are created equal. It's important to get high-quality, relevant links from other websites in your industry.
As a crucial aspect of SEO, link building is essential for enhancing your auto dealership's online presence and brand authority. By securing links from credible and trustworthy websites to your dealership's web pages, you can send positive signals to search engines, resulting in higher rankings on search engine results pages (SERPs).
To help improve your website's rankings and increase organic traffic and leads, we offer manual blogger outreach as a primary link-building strategy. We manually reach out to authoritative bloggers and websites in your industry and get them to link to your dealership's website, ensuring that you receive high-quality backlinks that can improve your website's visibility and credibility.
Manual blogger outreach is a highly effective link-building strategy that can yield long-term results and contribute to your overall SEO success. By securing high-quality backlinks, you can enhance your website's authority and relevance, and establish your dealership as a leading player in your industry.
Effective authority link building through manual blogger outreach will earn you lots of quality backlinks.
Website Development
Having a well-designed and functional website is crucial to the success of a car dealership. At our company, we offer comprehensive design and development services to help you create a user-friendly, attractive, and effective website that drives sales and boosts your brand's online presence.
Our coders have years of experience working with businesses in the automotive industry, and we have a deep understanding of the unique challenges and opportunities that come with selling cars online. We will work closely with you to create a website that not only looks great but also delivers a seamless user experience.
Whether you're starting from scratch or looking to revamp your existing website, we have the tools, expertise, and resources to help you achieve your goals.
Local SEO
Local SEO is a must-have for car dealerships. When people search for a car in their area, they're usually looking for a nearby dealership. That's why it's important to optimize your website for local search results.
Local SEO involves optimizing your website and business information, such as "car dealerships near me."
Google My Business optimization: This involves optimizing your Google My Business profile with accurate and up-to-date information, such as your dealership's address, phone number, and business hours. This helps Google display your dealership in the local search results and Google Maps.
Local keyword research: By researching the keywords that people in your area use to search for cars, you can optimize your website and content to match those keywords. This helps Google understand that your dealership is relevant to local searches.
Local link building: Building links from local websites and directories can help increase your dealership's visibility in local search results.
Reporting and Analytics
Finally, it's important to track and measure the results of your SEO efforts. This involves using tools such as Google Analytics and Google Search Console to track your website's traffic, rankings, and other metrics.
In addition to tracking metrics, reporting and analytics can also help you identify areas for improvement in your SEO strategy. For example, if you notice that certain pages on your website are consistently ranking lower than others, you may want to focus your efforts on optimizing those pages specifically.
It's worth noting that SEO is an ongoing process, and it may take some time to see the results of your efforts. However, with patience and persistence, you can improve your website's visibility and attract more traffic over time. By regularly monitoring your metrics and adjusting your strategy as needed, you can stay ahead of the competition and maintain a strong online presence.
Unlock your dealership's potential with Matador! Investing in our SEO reporting and strategy gives you the resources to maximize ROI, track market trends and acquire keyword-driven insights - all at an unbeatable price.
We are Matador!
Our agency was founded in 2005 with the goal of providing businesses with high-quality marketing services at affordable prices. Since then, we have helped hundreds of businesses grow and achieve their marketing goals.
What is Our Competitive Edge?
We have built 700+ of automotive websites from scratch
Our clients had over 10 million visitors in 2022
Dedicated teams of SEO experts, coders, writers, and link builders
Data-Driven SEO Strategy for Car Dealers
Our team lead will craft a custom SEO strategy helping you stand out in search engine rankings. Our approach is designed to boost performance across all aspects of digital strategies – drive more website traffic, increase organic rankings, and generate leads from qualified visitors. You can trust our knowledge-backed solution for taking the next step forward with an eye towards success!
Drive Your Dealership to the Top of Search Results
With automotive SEO marketing, you can drive your dealership to the top of the search engine results. Our services are designed to help you differentiate from the competition, increase visibility, generate more leads, and improve your website traffic.
Enhance Traffic Quality and Volume
Our cutting-edge automotive SEO strategies help to enhance both the quality and quantity of your website traffic. We help to optimize your website content so that it ranks higher in the search engine results pages, which in turn leads to higher quality website traffic.
Generate More Leads
By optimizing your website's pages and content for search engines, we can help you to generate more leads for your dealership. Our services are designed to help you reach more potential customers and drive more sales and revenue. With automotive SEO marketing, you can take your dealership to the next level.
We Better Let the Clients Do the Talking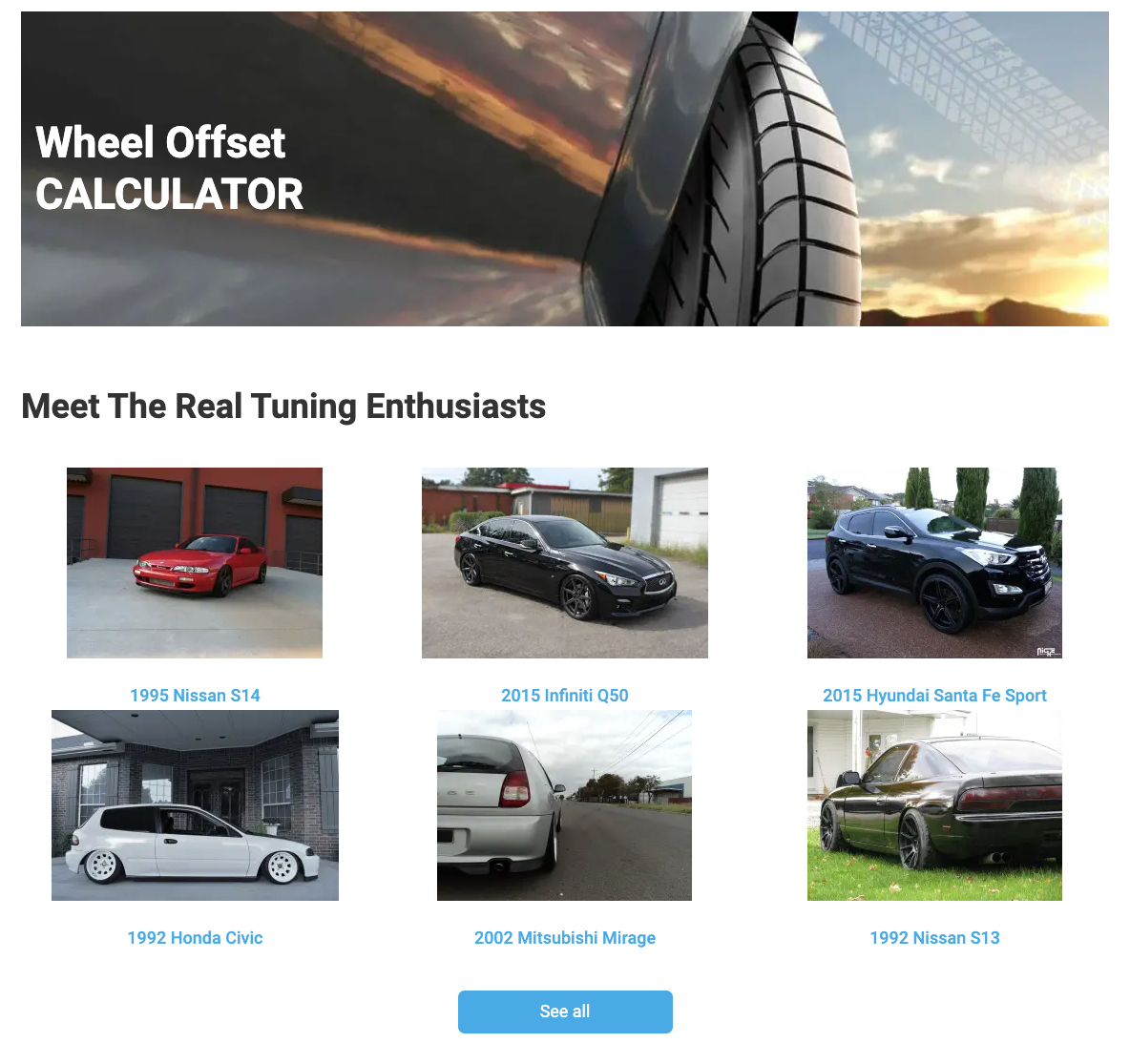 "I was blown away by the results that Matador delivered. My website's traffic increased significantly and I've seen a big boost in sales. Their team really knows their stuff when it comes to SEO and they were a pleasure to work with!"
- Robert Fowler, Product Manager of Wheels Size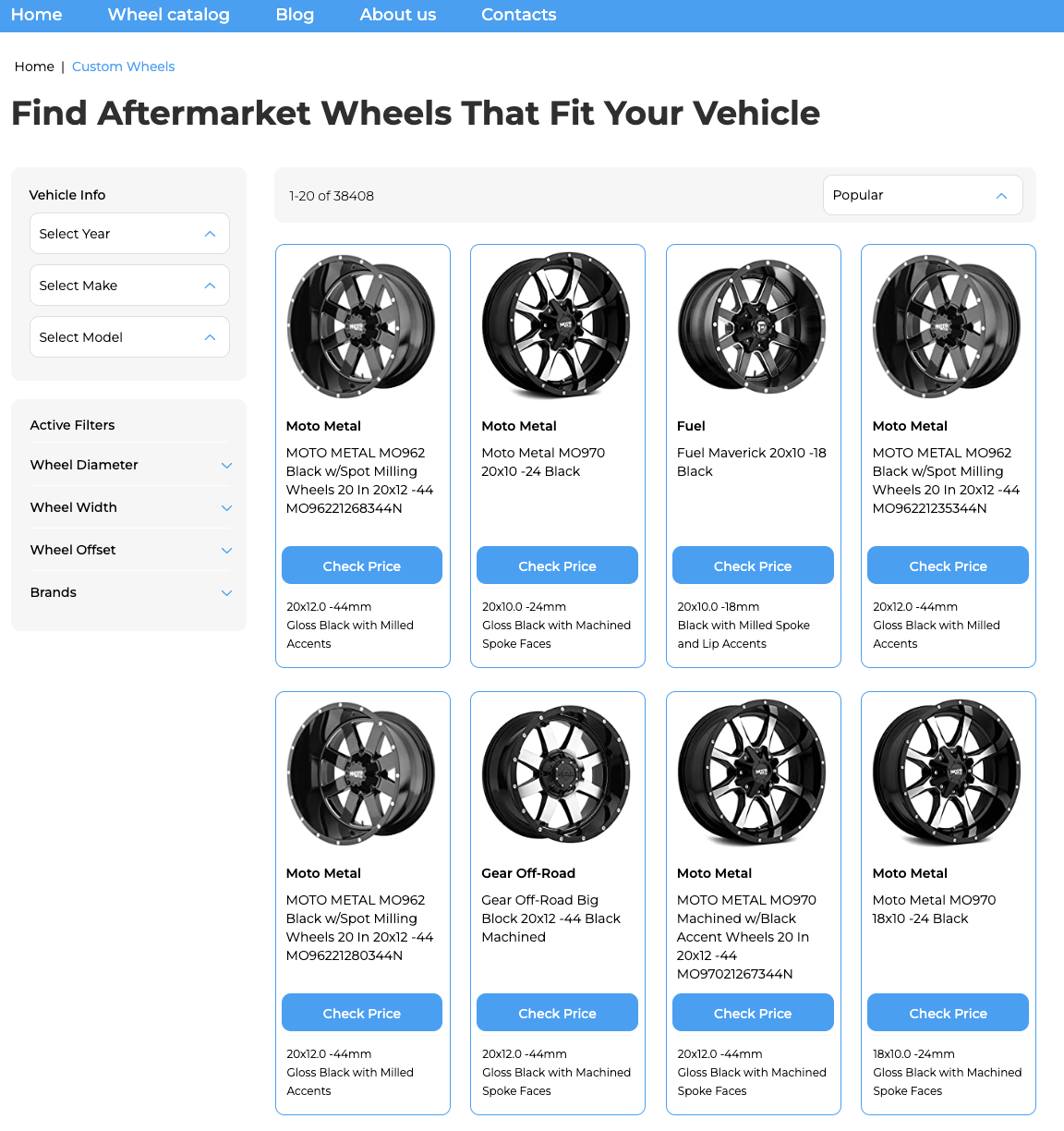 "Matador helped take my website, fordmaxmotordreams.com, to the next level! As a Ford dealer, I was looking for a way to get more leads and increase sales. The team at Matador worked with me to create a custom SEO strategy. I've seen a significant increase in traffic to my site and, more importantly, an uptick in sales!"
- Michael Lee, Owner of Ford Max Motor Dreams.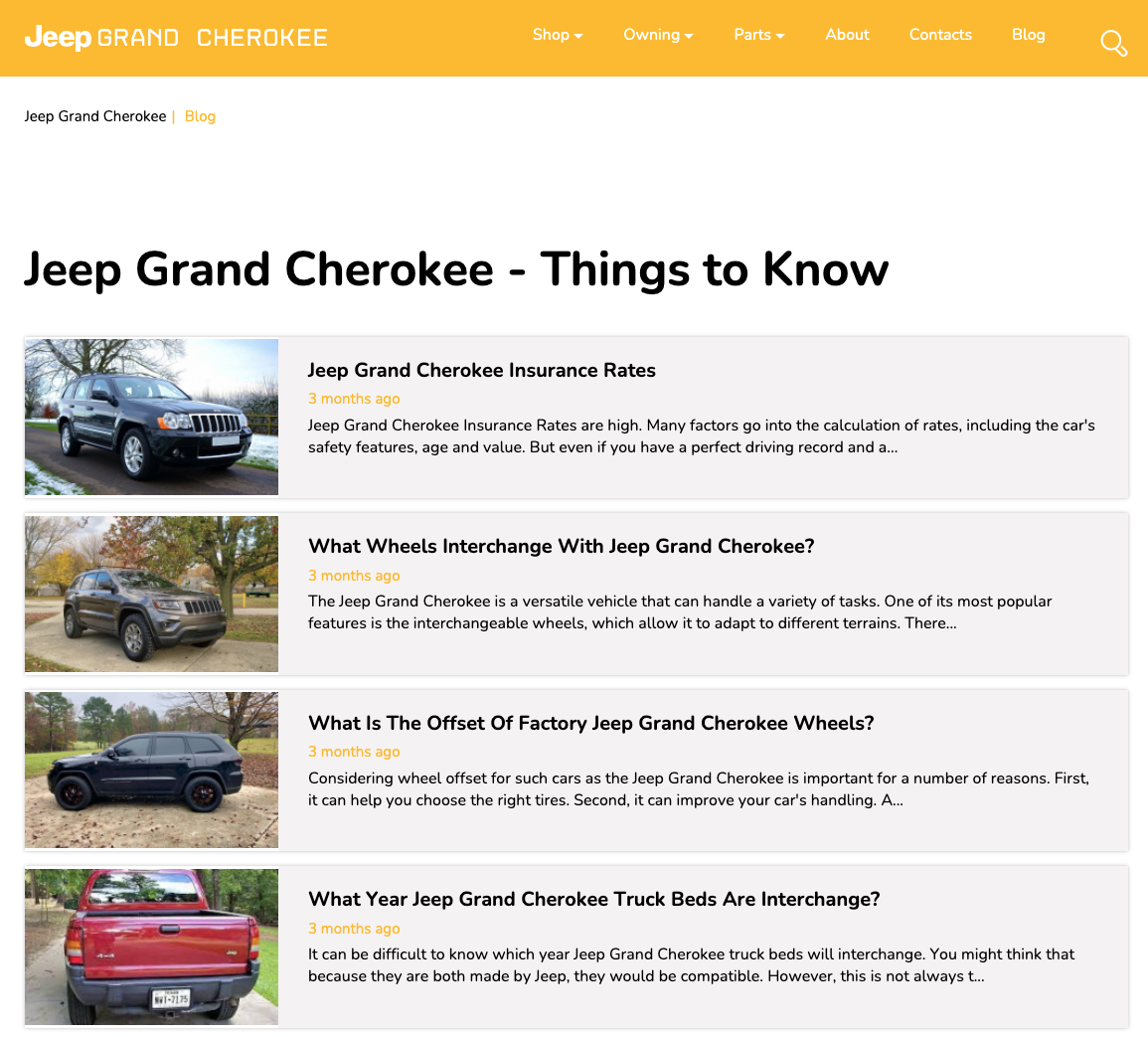 "Working with Matador has been a game-changer for my business. I'm now ranking on the first page of Google for many terms. If you're looking for a reliable and effective SEO agency, Matador is the way to go."
- David Chen, Owner of Jeep Grand Cherokee NJ
FAQ
How Much Does SEO Cost for Car Dealerships?
The cost of SEO services for car dealerships can vary depending on several factors. We offer affordable SEO services package starting at $1,000 per month. This price does not include any additional costs for link building or content writing. If you're looking for a dedicated SEO team to work full-time on your project, our prices start at $5,000 per month.
Can You Perform Just SEO Analysis on My Auto Dealership Website?
Sure, we offer a one-time website analysis containing valuable insights and recommendations for improving your website's performance.
To request an SEO analysis for your car dealership website, simply fill out a request form on our website. Our team will get back to you within a few days with a personalized analysis report.
Will You Helps if My Car Dealership Is Brand New?
Whether you have a brand new car dealership website or a domain with some previous promotion history, our car dealership SEO agency can help you achieve your business goals. We specialize in creating effective SEO strategies that work for both established and new brands.
What does Car Dealers SEO mean?
Car Dealers SEO involves optimizing your website to improve its ranking on search engine result pages (SERPs). This process can lead to higher levels of website traffic, increased online conversion rates, and ultimately, improved sales for your automotive business.
Why Do Car Dealers Need SEO?
As a car dealer, investing in SEO can lead to increased organic website traffic and sales. Get ahead of the competition with a car dealer SEO service that can rank your web pages higher than your competitors.
Here are some reasons why you should consider tailoring SEO into your marketing strategy:
Boost your website traffic and clicks with the help of SEO for car dealers.
Find more targeted and qualified leads with effective SEO strategies tailored for car dealerships.
Raise your brand's profile and drive more traffic to your dealership with a comprehensive SEO plan.
Don't miss out on potential customers - invest in the best SEO services for car dealers and see the results for yourself.
How Long Does It Take to See SEO Results?
Typically, you can expect to see the first results in 3-6 months. However, the speed of results depends on how quickly our team can implement the recommended SEO strategies. We provide initial forecasts of website traffic growth within your budget.
While some projects may achieve high-ranking results in as little as three months, it's important to anticipate a longer timeframe for optimal results.